It is impossible to imagine childhood without toys. Smart, intricate, funny and serious, helping to learn and develop. Among them there are toys that are called "folk". They have been living for several centuries, entertaining and delighting more than one generation of children and adults.
Each region of the European part of Russia had a toy of its own, but at the same time all toys had a lot in common: a constructive basis, ease of execution, elegance and poetry, a tactile sense of craft, which is characterized by manyfold repetition.
The toy has managed to remain a means to reflect the events in the existence of people over the years: features of life, customs, rituals, close connection with the surrounding nature. It has become an obligatory part of the life of the people, retaining the ability to express the eternal idea of ​​goodness and beauty in a unique artistic form. Isn't that why it remains understandable and interesting till today? After all, the toy speaks the universal language of folk culture, passing on the life experience of the elders to the younger, trying not to lose and pass on a living tradition in a many-sided, rapidly changing world.
This year our museum turned 40 years old. During this time, several generations of children have grown up, whose childhood turned out to be closely connected with the museum. Here they first got acquainted with a folk toy from the museum collection, "talked" with the characters of fairy tales. For many children, a vivid memory was the "birth" of their own toy in the museum workshop, the opportunity to pick it up and paint it in the manner of an old folk whistle. The folk toy does not leave adults indifferent either: parents, collectors, artists, designers and all those who cherish the history of the country and its national art.


Birds
Dymkovo, Filimonovo, Abashevo, Kargopol, Bogorodskoye - here they still make toys out of clay and wood. For example, a bird! In Russian traditional art, the image of a bird is one of the key ones. It can be found in fairy tales, paintings, embroideries... It is a symbol of earthly and heavenly fire, a harbinger of spring. It brought light and joy, drove away the forces of darkness, was the guarantor of prosperity, health and protection.
There are real and fantasy birds depict: a firebird, a sirin, a butterfly bird, a robber rooster. The toy of the Russian North, Kargopol, can be recognized by its small size, rough modeling, simple painting of dashes, dots, crosses, circles-solar signs. Also, teaching children how to work painstakingly, old masters created a chipped bird from wood, which is called the bird of happiness.
In the village of Filimonovo, Tula province, there is another center of original toys. Clay there is oily, plastic. The figurines from it are slender and flexible, with elongated necks and small heads. After baking, white clay is ideal for painting not with a brush, but with a chicken feather, "to better hold the paint" ... Striped painting "runs in shape", alternating with spots, "herringbones, suns, rake", as the masters call these ornamental elements.
Dymkovo toys are famous in Russia for their unusual brightness. These clay figurines are named after the Dymkovo settlement near the city of Vyatka, which was famous for its "Whistle" holiday. At that time, penny whistle familiar to us from childhood were not only made for children, but also for adults who believed that evil forces could driven away with a whistle. These toys today are immediately recognized by their patterned multicolor.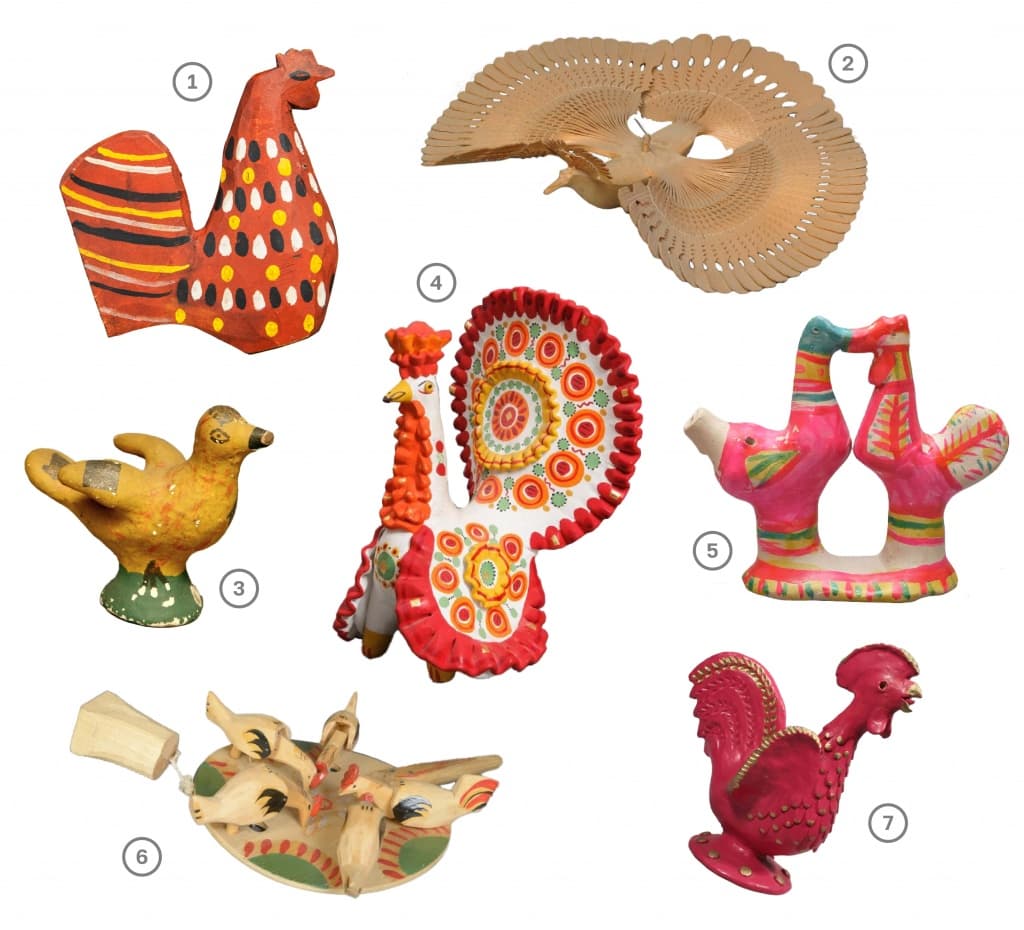 1. Toy "Cockerel". 1918 2. Bird chip. N.A. Sidorov. 1980s. 3. Dymkovo toy "Bird". 1920-1930s. 4. Dymkovo toy "Turkey". N.P. Trukhina. 1980 5. Filimonov toy. Whistle "Rooster and Hen". E.I. Lukyanova. Late 1980s. 6. Bogorodsk toy with the movement "Chickens in a circle." R.F. Sosin. 1955

Horses
Among the ancient Slavs, the horse was considered a sign of the sun, the carrier of the heavenly body in the sky, a friend and helper of man. It was most often depicted in the form of a cross, circle, rhombus, rosette. Horses have long been the favorite toys of children. The horse was sculpted from clay, carved from wood, each in its own way.
The Russian north strikes with its severe beauty, and the Arkhangelsk carpenter's toys are distinguished by their shape, construction, manner of carving and painting. "Horse-deck" - this is how the massive horse, hollowed out of a single log, was called in the North. The world of images, plausible and fabulous, has been preserved by a clay toy from Kargopol. The horses do not walk, but solemnly pose. A clear, large and uncomplicated ornament enhances the impression of monumentality.
Kozhlyanskaya toy from the Kursk region are cheerful, joyful, energy-breathing sculptures. They are made from light clay, which gives a pink tint after backing, and decorated with an ornament of spots, a rhombic grid, Christmas trees, often with simple colored ink.
Khludnevsky horses from the Kaluga region can be mistaken for pagan figurines from archaeological excavations, the figurines with deep pits instead of eyes. The main background is the color of baked milk decorated with a simple spotted cheerful pattern.
Horses from the Ryazan region are full of movement, with a steep arched neck, a graceful head. The legs are energetically set forward - racing, running, jumping. Such horses were made only in Ryazan.
Dymkovo handsome horses and riders from the Kirov region are very smart. Riders in civilian and military costumes, in epaulettes and top hats, in a military jacket, and striped trousers sit firmly.
Striped slender Horses from the village of Filimonovo proudly stretch out their long necks, prick up their ears. Red, yellow, green stripes of the pattern were applied directly on the baked clay.
Mighty horses and riders from the village of Abashevo, Penza region! They have a broad chest and strong legs. The horsemen wrapped their short arms and legs around the long necks of the horses.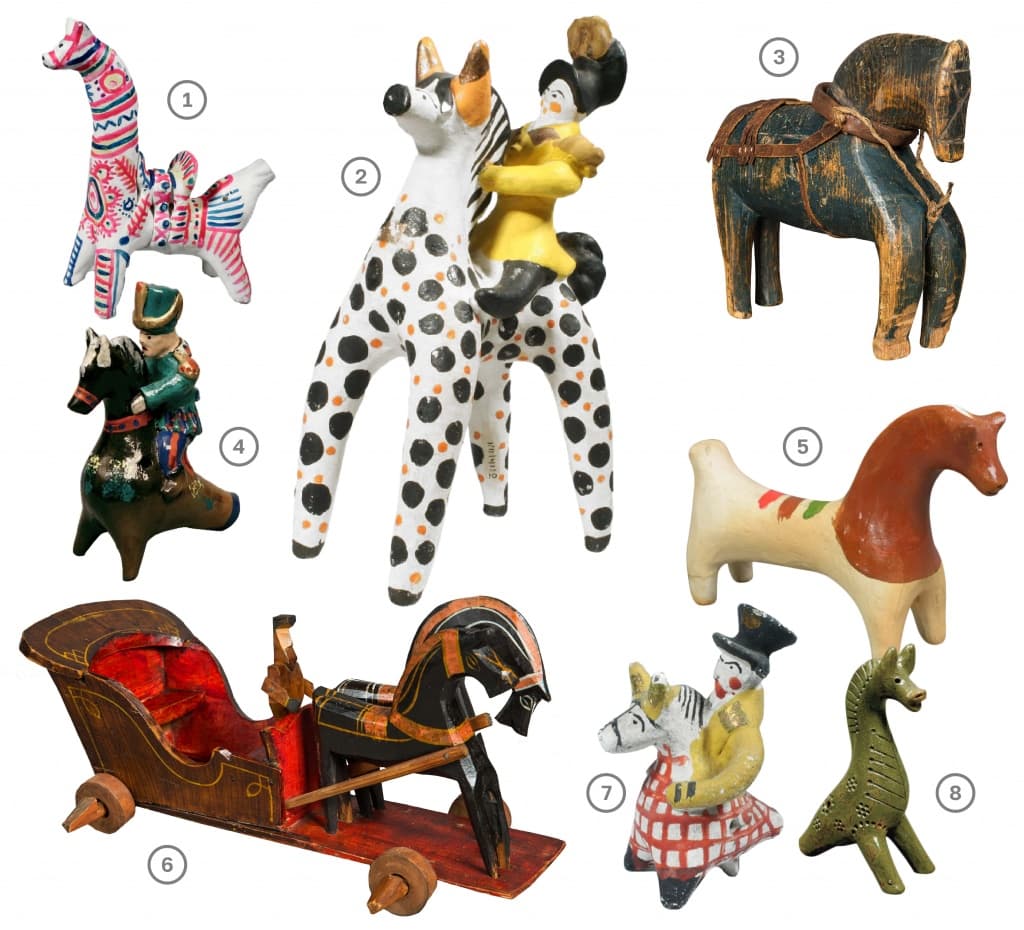 1. Filimonov toy. Whistle "Horse under saddle". E.K. Evdokimova. 1969 2. Dymkovo toy "Horseman". E.I.Koss-Denshina. 1965 3. Toy "Horse". XIX century. 4. Zhbannikovskaya toy. Whistle "Horseman". K.F. Timofeev. 1991 5. Dobrov toy. Whistle "Horse". I.K.Pustovalov. 1970-1980s. 6. Gorodets toy "Cart drawn by a pair." XIX century. 7. Dymkovo toy. Whistle "Horseman" ("Cavalier on horseback"). A.A. Mezrina. 1900-1910s. 8. Petrovsky (Susaninsky) toy. Whistle "Horse". M.A. Shmarov. 1992
The Bears
In the view of ancient Slavs, the bear is the ancestor of people, the lord of nature, a symbol of strength and power. An echo of pagan times, a toy bear discards everything random, creating expressive images. Some are ferocious and clumsy, others are original in form and decor.
The Kargopol bear is a kind master of the forest, he walks on two legs like a man. He has got large crosses on the chest – these are echoes of his connection with the cult of the sun and the fertility of the earth. At times though the bear bullied the nurse-cow, trampled the crops. This was reflected in the images of the toy: the bear stands full face, with an elongated muzzle, ajar mouth and raised paws.
The city of Skopin in the south of the Ryazan region is known for decorative ceramics and figurines, among which there are many bears and lions. Skopinsky toys are made of light clay, their design is complemented by scratching, stamps, moldings. After firing, they are covered with dark brown, bright green, yellow glaze. In order for the figurines to turn into a whistle, a hole is made in them with a sharp stick. The sound is special, like a bear roaring in a low voice.
In our collection there is a toy of folk craftsman Vladimir Zaznobin. He worked as a carpenter all his life, yet in his seventies he began to cut windmills and birdhouses with funny little animals. He did it with a knife and an ax. A a hare and a bear would knock with hammers from the breath of the wind.
The famous "Blacksmiths" are a classic example of a folk toy from the village of Bogorodskoye in the Moscow region. Here they like to carve figures of animals and birds, but most often of a bear. The master outlines only the most important features, paying attention to the transmission of movement, which makes the image of a bear very convincing even in the most incredible of the stories.

Dymkovo bears are similar to Kargopol bears in their posture, stable figure, and elongated head. A composition of ornamental painting is formed out of signs of nature. The final touch is a piece of gold leaf on the surface of the toy.
The bear from the village of Filimonovo near Tula looks more like the Zmei-Gorynych (Three-headed Dragon) from a Russian fairy tale than its actual prototype. And the characteristic modeling of the Khludnevsky whistle from the Kaluga region resembles a child's work, just as leisurely and made as if in a hurry, without detailing.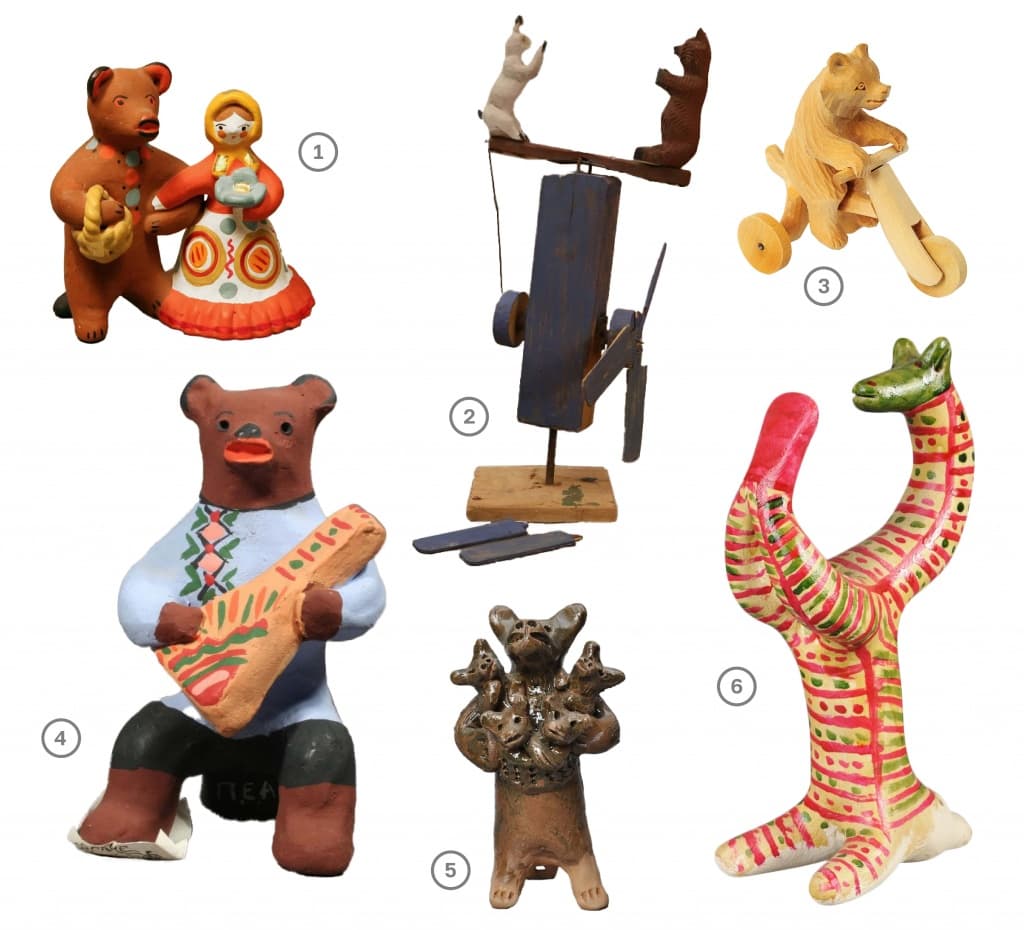 1. Dymkovo toy "Mashenka and the Bear". A.F.Popyvanova. 1980 2. Windmill "Hare and Bear". V.N. Zaznobin. 1976 3. Bogorodsk toy "Bear on a bicycle". V.S., Zinin (author of the model), A.S. Eroshkina. 1970-1980s. 4. Kargopol toy "Bear with a balalaika". E.A. Piskunova. 1989 5. Skopinsky toy. Whistle "Bear with 4 cubs" A.V. Popov. 1991 6. Filimonov toy. Whistle "Bear with a gift" A.G. Zaitseva. 1970s.
Deer
The deer is a symbol of abundance and wealth. Have you heard the saying "Horned to live"? The deer is a great luminary, giving the earth light and warmth.
Particularly expressive are the Zotkinsky deer (hereditary dynasty of Abashev's masters). They have short legs and a long neck. There are ears stuck under the horns , they have circles on the neck, like buttons in a row. Deer differ from each other in various forms of horns. The entire surface of the toy is covered with dull enamel paint, against its background the ears and horns sparkle preciously with bronze and aluminum.
A simple but unique painting distinguishes a deer from Kargopol. The oldest Kargopol craftswoman Uliana Babkina sculpted a toy, backed it in a Russian oven while her cabbage soup and porridge were being cooked, painted it with red paint from rusty iron and black paint from soot in milk. The result was a touchingly naive figurine of a white deer with the fingerprints of the master, with red horns and a scarce ornament.

Filimonovsky deer is fabulous. He has high legs, an exorbitantly long neck, and a small head. The painting is similar to cursive writing - fast uneven lines and strokes of different thicknesses seem to be done without much effort, just as a joke. Open colors create cheerful variegation and elegant decoration. Large figurines were placed between the frames in winter to make the windows look more elegant.
The silhouette of Gorodets whistles "pipes" from the village of Zhbannikovo, Gorodetsky district, resembles an isosceles triangle. The figurines are painted with sonorous enamel paints: red, green, blue. Then stripes applied are called "tropochki-dorozhki" ("paths-and-little roads"). This technique was widely used in Gorodets painting (on spinning wheels). A spongy stamp was made from a rain mushroom, which was dipped in paint and a pattern was printed on the surface of the toy (spots, rows). Horns, ears, hooves of deer were silvered with aluminum paint.
In the village of Petrovskoye in the Susaninsky district of the Kostroma region, you can meet different animals, from deer to elephant. This patterned sculpture, covered with brown-green glaze, is also interesting in its plastic solution - the animals are strange, hardly recognizable. Whether this is a product of the author's fantasy, or some echoes of the archaism of Ancient Russia who knows…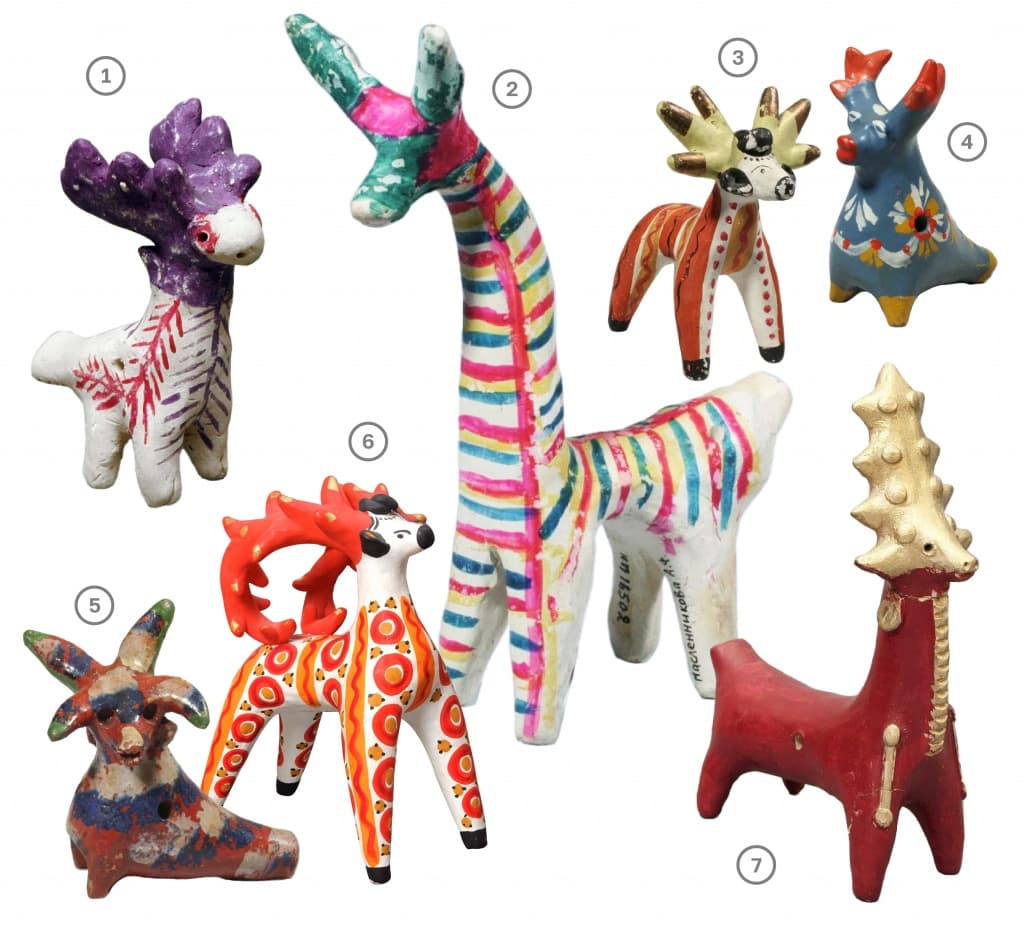 1. Kozhlyanskaya toy. Whistle "Deer". O.I. Deriglazova. 1980s. 2. Filimonov toy. Whistle "Deer". A.F. Maslennikova. 1967 3. Dymkovo toy "Deer". E.I.Koss-Denshina. 1953 4. Zhbannikovskaya toy. Whistle "Deer". 1960s. 5. Zhbannikovskaya toy. Whistle "Deer". L.T.Potatuev. 1934 6. Dymkovo toy "Deer". N.P. Trukhina. 1974 7. Abashevskaya toy. Whistle "Deer burgundy". T.N. Zotkin. 1960-1970s.
Pigs
The image of a pig or, as the craftswomen in the crafts affectionately called it, "pigs" in Russia personified well-being, fertility, and sometimes a successful marriage. One of the beliefs says that on New Year's Eve you can see a golden pig in the hut - a newborn sun, a symbol of the fertility of the earth. Folk tales and riddles tell about the magical "golden bristle pig".
At the beginning of the 20th century in the Russian North, pigs were the least part of the domestic animals, but their image was nevertheless reflected in the Kargopol toy. The craftsmen sculpted a "she-pig with piglets".
Also there are interesting images of a pig from the village of Kozhlya, formed at the beginning of the 18th century by "various artisans" transported from Poltava. One of the last craftswomen, Valentina Kovkina, created an outlandish image - the whistle "The Werewolf Rider". In the ancient rites associated with the cult of the sun, a horseman with a face both in front and behind took part. Is Kovkina's toy connected with this custom? Now it is hardly possible to find out.
No less fantastic is the story of Abashev's toy "The policeman on a pig with a goat-whistle". A magnificent sculpture: an ironic toy and at the same time a tribute to the work of the old masters who invented and sculpted the "policemen".
In the Filimonovo toy, clay began to live its own life thanks to the bright painting. Free wide movement of stripes, lines in strict order. First, a spot was painted in yellow, and then red lines were drawn and green ones were added. A feast of a toy!
Skopinsky craft is distinguished by the originality of the authors. Here they like to sculpt fairy-tale images, which makes the "She-Pig with piglets" of 1913 so very interesting. A simple scene, but what a kind smile is shining through it. It retains a softly streamlined shape and recognizability without striving for complete believability.

The form of the Romanov whistle from the Lipetsk region is archaic. Simple in execution, easy to read, with obligatory whistle holes.
In the village of Bogorodskoye, craftsmen carved figures of people and animals from soft wood, decorating them with small patterned "painting". With different rhythms, the play of light and shadow, the surface of the sculptures begins to live. A craft wrought into a true art.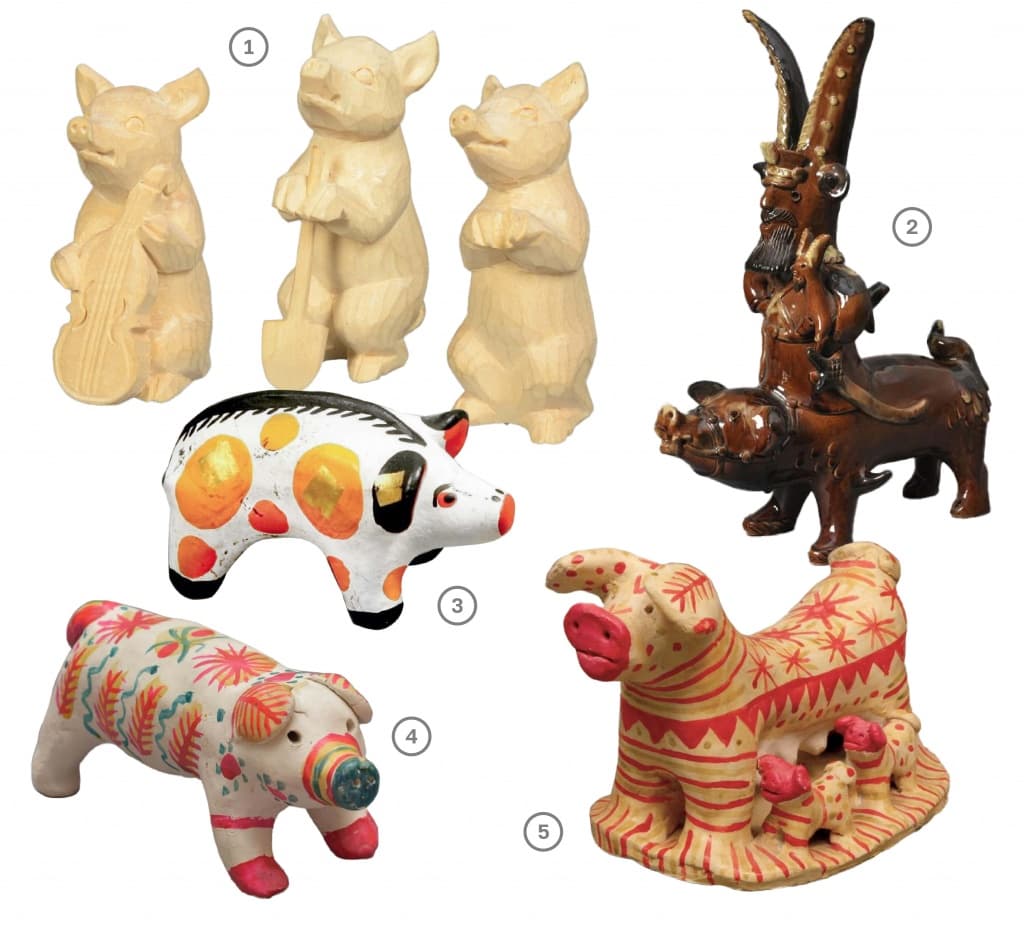 1. Bogorodsk toy "Three Little Pigs". 1964 2. Abashevskaya toy. Sculpture "Policeman on a pig with a goat-whistle". 1977 3. Dymkovo toy "Pig". N.P. Trukhina. 1983 4. Filimonov toy. Whistle "Pig". E.K. Evdokimova. Late 1980s. 5. Filimonovo toy "Pig with piglets". A.G. Karpova. 1981
Goats, sheep
According to Slavic legends, a ram, like a deer, is the personification of heaven and earth, sun and fire. In a number of places in the Russian North, the solar ram replaced the deer in rituals. Ideas of contentment and welfare were associated with these animals. The harvest of oats (one of the most fertile crops in the North) folded into sheaves was called "ram". For Christmas, they baked delicious "roes" - gingerbread depicting rams, goats, deer. They were made so that in the new year there would be cattle in the house and give offspring.
The image of a ram is repeatedly found in proverbs and popular expressions, such as: "stare like a ram at a new gate"(meaning "not to understand amything"), "let's go back to our rams"("let's return to what we discussed). And the "goat" gesture, familiar to everyone, existed for a long time as a magical sign for protection from the evil eye and evil spirits.
In the Caucasus, the image of a ram is a symbol of prosperity and wealth. Clay sculptures show the images of those animals as significant symbols or phenomena. These figurines are made in Dagestan, in Balkhara. This small alpine village has long been a center of pottery and clay modeling. Only here they decorated the toy with engobe painting (liquid clay). These occupations were exclusively women's craft. Balkharks rarely left their aul, apparently, therefore, the ancient decorative traditions, reminiscent of the paintings of the Bronze Age, were preserved here.

The Dymkovo toy was originally a whistle. A poor assortment of animals was expanded by rams and goats. The craving for narrative, the desire to give the image a new content, led to the enrichment of the form with a multi-colored geometric pattern and made the figures festive and elegant.
The clear and loud sounds of Zhbannikov's whistles beckoned buyers at the famous Nizhny Novgorod fairs, no one could pass by. And today this toy attracts with bright elegant decor, an ornament similar to the floral pattern of the famous Khokhloma painting.
Look at the voluminous Bogorodsk sculptures made of linden! How amusing they are, and with a movement. It's so tempting to take part in that "butting" on the bridge, f.e.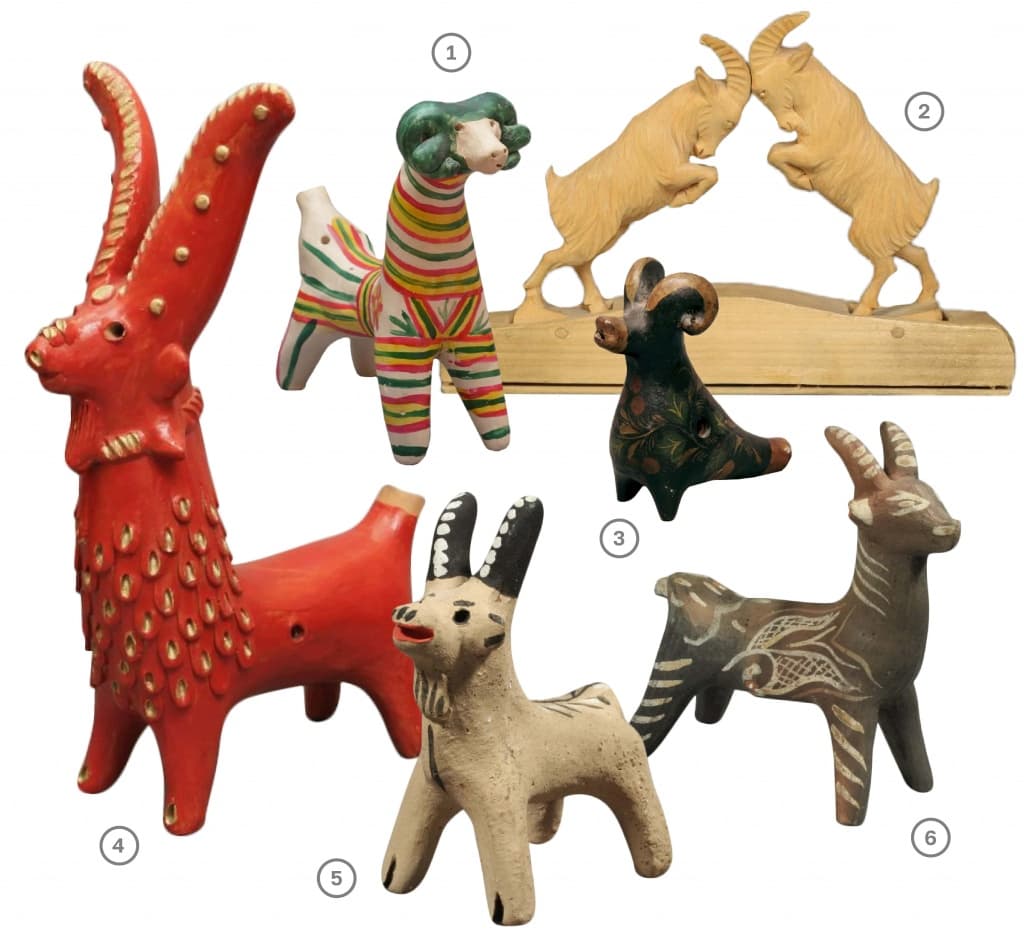 1. Filimonov toy. Whistle "Baran". E.K. Evdokimova. Late 1980s. 2. Bogorodsk toy with the movement "Goats on the bridge". V.S.Zinin. 1939 3. Zhbannikovskaya toy. Whistle "Lamb". 1930s. 4. Abashevskaya toy. Whistle "Goat". T.N. Zotkin. 1970s-early 1980s. 5. Kargopol toy "Goat". 1988 6. Balkhar toy "Mountain goat". 1970s.
Hares (Bunnies)
It is no coincidence that Among the "sunny" images of Russian toys the "hare" found its place. This is one of the oldest Slavic symbols that combines several meanings. First of all, it is a solar sign that carries the light, truth, power and strength of the Slavic family. The hare as a symbol and totem is a talisman of the family, of its constant renewal and continuity. It helps with the passage of wisdom from the old generations to the new.
The connection of a hare with light and fire can be traced in circular round dances and songs called "zainki" (cute little hares). In folk signs: if you see a hare running around the village - wait for the inevitable fire. Figures of hares in the Russian North were specially made for the wedding. In the wedding ceremonies, a hare is an image of a groom looking for a bride.
Of all the long list of symbolic meanings of our protagonist, cowardice remains dominant at the present time. A cowardly person is compared to a hare. It is not for nothing that a stowaway is called a "hare".
The most archaic toys are from Kargopol, as well as from Kozhlyan, Khludnev, Zhbannikov. They are concise yet, at the same time, amaze with the variety of interpretation of this image by craftsmen.

Clay whistles from the village of Kozhla can not but attract with their originality. They were made by a talented craftswoman Valentina Kovkina, whom collectors called "Russian Van Gogh". Whistles were sent far beyond the region, even to Persia and Turkey. They were transported in barrels and for the sake of convenience they avoided making any unnecessary parts that could have broken off.
Anna Mezrina interpreted the traditional images of the Dymkovo toy in her own way, enriched them with new themes and modeling techniques. She became the first craftswoman in Dymkovo, whose work was widely known. The world of her toys is bound by strong ties with nature, moderately fabulous and real, ingenuous and infinitely sincere.
The Filimonovsky hare has a thin waist and a long neck. Naive, as if painted by a child, "Hare" 1937. And here is the whistle of 1988 with its expressive silhouette lines, elongated proportions and somewhat twilight color.
The Zhbannikov toy is distinguished by an expressive silhouette with a powerful chest and a smooth line of the back. From a hare, perhaps, only characteristic protruding ears.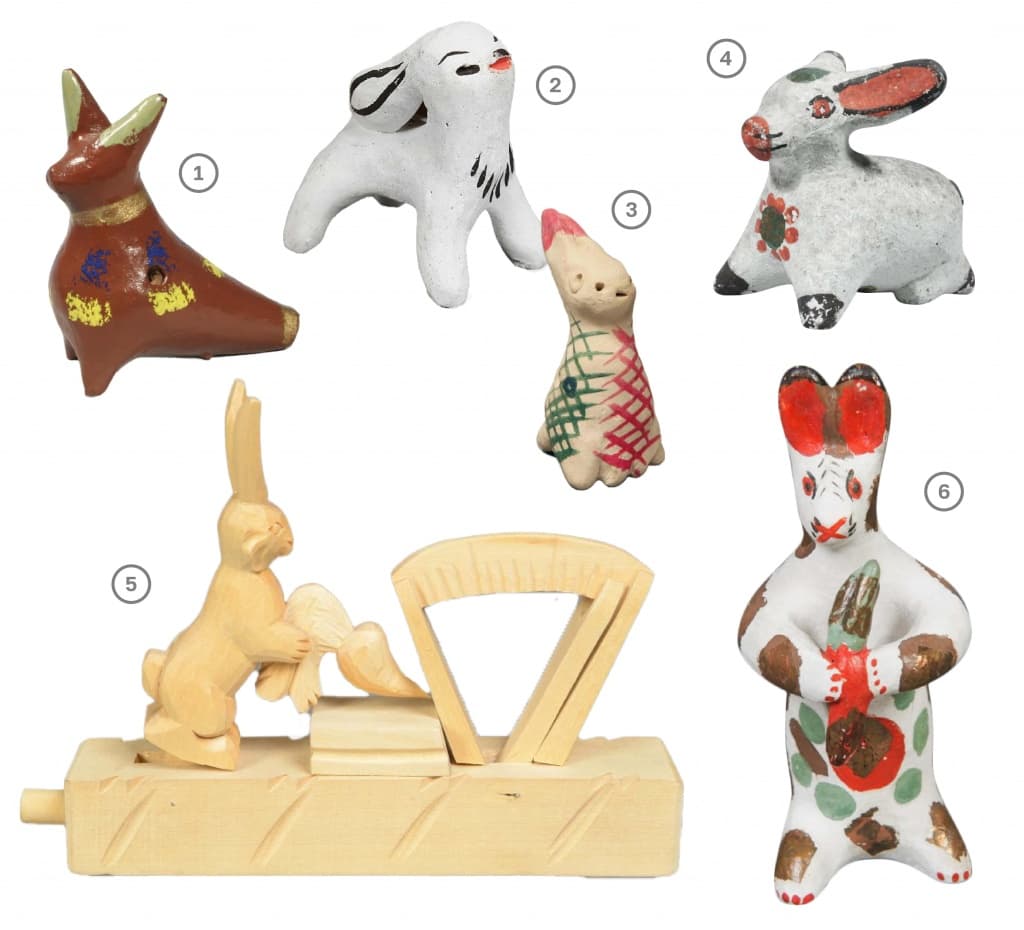 1. Zhbannikovskaya toy. Whistle "Hare". 1981 2. Kargopol toy "Bunny". 1970-1980s. 3. Kozhlyanskaya toy. Whistle "Hare with raspberry ears". V.V. Kovkina. 1970s. 4. Dymkovo toy "Hare" ("Rabbit"). A.A. Mezrina. 1920s-1930s. 5. Bogorodsk toy with the movement "Hare weigher". M.V. Barashkov. 1962 6. Dymkovo toy "Hare with a carrot." ZF Bezdenezhnykh. 1955
Sirin bird
One of the fantastic characters of Russian art is the Sirin bird, an attractive and ambiguous creature. According to researchers, Sirin owes its origin to the literary medieval tradition: "This is a bird from the head to the waist, the composition and image of a man, from the waist it is a bird." The most ancient images of Sirin date back to the 10th century and are preserved on clay plates and women's jewelry. The prophetic bird sometimes flies from the Gardens of Eden and disperses sadness and melancholy with its singing. It appears only to happy people.
In the 18th century, Sirin loses her fairy-tale features and takes on the appearance of a peasant red maiden. The bird inspired artists and poets with its beauty. Our people also appreciated her, turning her into a caring keeper of domestic well-being and happiness. The idea of ​​the ability to fly to a different, smart and happy world is also connected with it. This elevated image of light, joy was close and understandable to people's thinking.
Sirin was especially revered in the Russian North. It was a solar sign and was considered a female amulet. Sirins "live" in Kargopol to this day in the form of whistle birds.
Masters of the Romanov toy sculpt it like a big dumpling, hollow inside. They consider their figurines to be amulets. You whistle - troubles, ailments go away, peace and health return.
Archaic jug figures are enlarged in proportions, with a pronounced clear silhouette with an emphasized mighty chest, with uncomplicated oil painting.
Toys from the village of Pleshkovo, Oryol region, are coarse in molding and painting, but have a particuar expressiveness of their squat proportions. The painting was done with a plucked goose quill and home-made paints made from grated bricks. They easily lay on the surface and soaked into the pores of weakly baked clay.
The craftswoman painted the Chernyshinsky whistle "Bird-Sirin" with stripes resembling the plumage of birds. On the head there are braids laid in a circle. The figurine is distinguished by a special graceful plasticity with a painting in two colors, made with mineral paints, a feather from the tail of a rooster.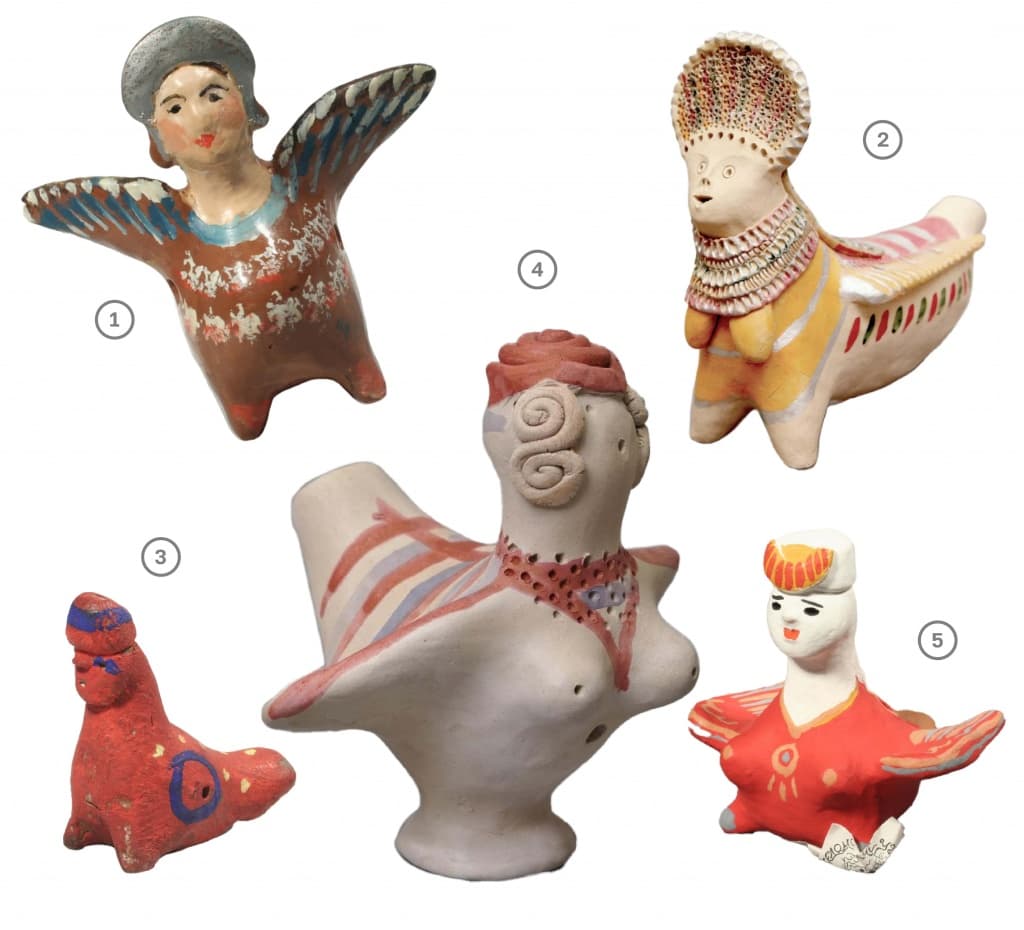 1. Zhbannikovskaya toy. Whistle "Bird Sirin". P.S. Timofeeva. 1988 2. Romanov toy. Whistle (whistle) "Bird Sirin". V.V. Markin. 2002 3. Kargopol toy. Whistle "Bird Sirin". U.I.Babkina. 4. Chernyshinsky toy. Whistle "Bird-Sirin". N.N. Frolova. 1997 5. Kargopol toy "Bird Sirin". S.M.Kononova. 1989
Polkan
There is a very interesting and mysterious character In our collection - Polkan. Who is he, why is he so popular in folklore, ceramics, folk art? Some scientists suggest that Polkan is a relative of the ancient Greek Centaur. In ancient mythology, we really do meet several similar images, but they often show hostile personalities. Others believe that Polkan is related to Polekhan or Plikhan, the god of ancient Slavs, a creature close to the pagan god Yarila and included into the circle of the natural god.
Polkan has great strength, but with an unusual appearance: "He has the appearance of a man to the waist, and of a horse below it." He is credited with unimaginable agility and speed. There are famous images of polkans on the walls of the Dmitrievsky Cathedral in Vladimir, St. George's Cathedral in Yuryev-Polsky. In Russia of the 15th century, it was minted on coins, later placed on tiles, printed on popular prints.
In fairy tales, legends, magic spells they speak about the huge and kind hero Polkan, the defender from the forces of evil. He jumped over the seas and mountains, helped people in battles and battles. Such an image of an irresistible hero was preserved in the memory of the Kargopol craftswoman Uliana Babkina. She sculpted Polkan as an "old-mater man", with a strong chest and obligatory radiant sun, blushed his cheeks and painted his beard with a light stroke of blue and red paint.
The hereditary Shevelev dynasty managed to do a lot to continue the traditions of the Kargopol toy. Their toys are reminiscent of the best works of Babkina and Druzhinin.
The ancient Russian village of Abashevo was first mentioned in 1616. Among its masters there were also toy-makers, in their clay figurines one can feel a mysterious connection with antiquity. They are made in a kind of grotesque style, lingering between the human and the natural. The Abashev Polkans always stand confidently, rooted. They have a special sharp silhouette, the palette is represented by more complex muted tones, which frees ceramics from the tint of naivete. These are not likenesses of real people, but creatures created by the master's fantasy.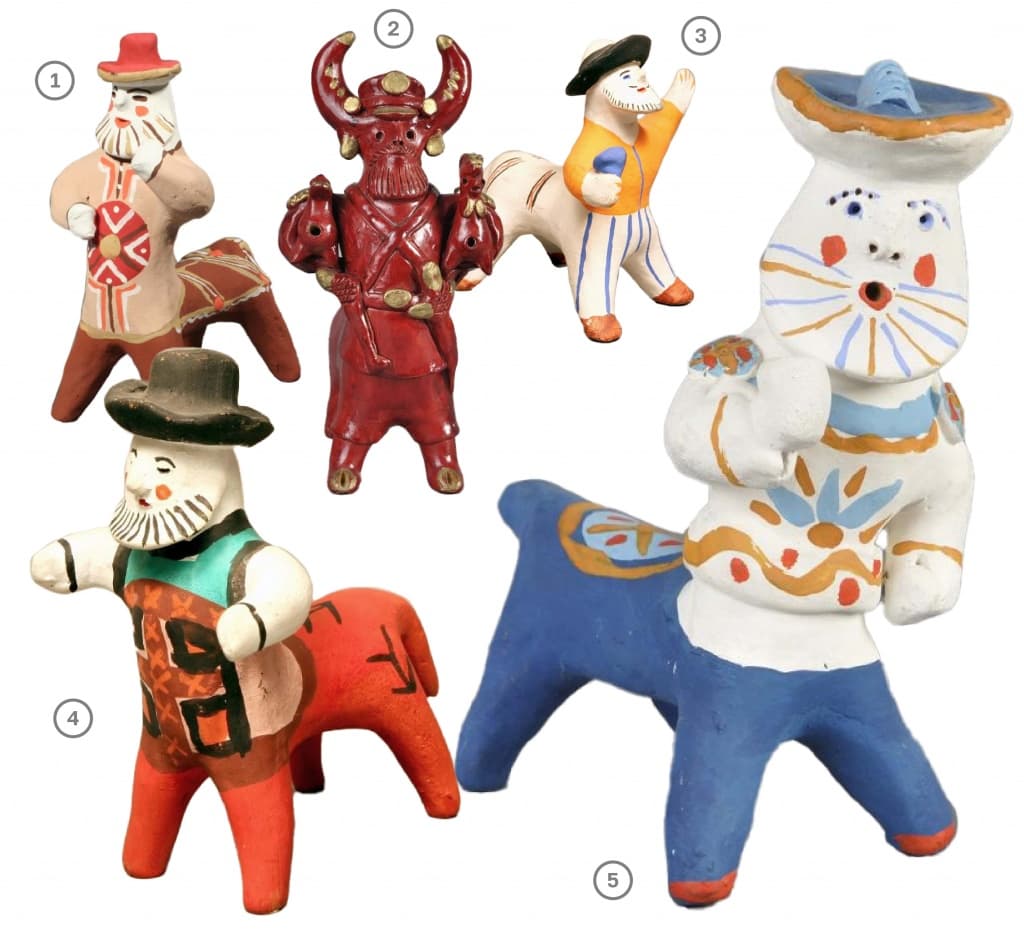 1. Kargopol toy "Polkan". S.N. Yakovleva. 1989 2. Abashevskaya toy. Whistle "Polkan". T.N. Zotkin. 1970-early 1980s. 3. Kargopol toy "Polkan in orange". A.P.Shevelev, N.Sheveleva. 1970-1971 years. 4. Kargopol toy "Polkan". K.P. Sheveleva. 1970 5. Kargopol toy "Polkan with a pipe". V.D. Shevelev. 1992
Male images
Since the end of the 19th century, the toy has been noticeably influenced by city life. In Dymkovskaya, the main characters are riders, festivities, boating, as in E.I. Penkina's toy "In the Boat". In the 1930s, many craftsmen sought to reflect their time, and traditional Dymkovo horsemen turned into "Red Army men" in Budyonov helmets.
The Kargopol toy tells about the house work, folk festivals. The legendary U.I. Babkina sculpted a figurine and said: "To make a man razhy (prominent): a strong body, a daring disposition, a cheerful character." The Kargopol old men have spade beards painted with black paint and very carefully too so that they come out as if combed.
In Sergiev Posad, the image of a person is particularly well-developed. The figurines were gradually born from the log, "released" under the hand of the master. Smart hussars and cutesy ladies were popular. Military people have always been in sight, they were admired. They were symbols of the male virue, courage and honor.
Bogorodsk craftsmen created their own type - an unpainted toy-sculpture. Its merit lies in the beauty of the general silhouette, in the character of carving on white wood. The masters came up with many different toys with movement, on sliding slats - divorces.
In Zhbannikov's sculptures, the features of a traditional toy and its modern interpretation merged, as in the whistle "A Man with an Accordion". The accordionist is a welcome guest at all gatherings. The figurine goes back to ancient prototypes, but is perceived in a modern way, decoratively and expressively.
All these intricate male figures, if put together, seem to immediately come to life and begin to talk among themselves, to exist their own special toy life.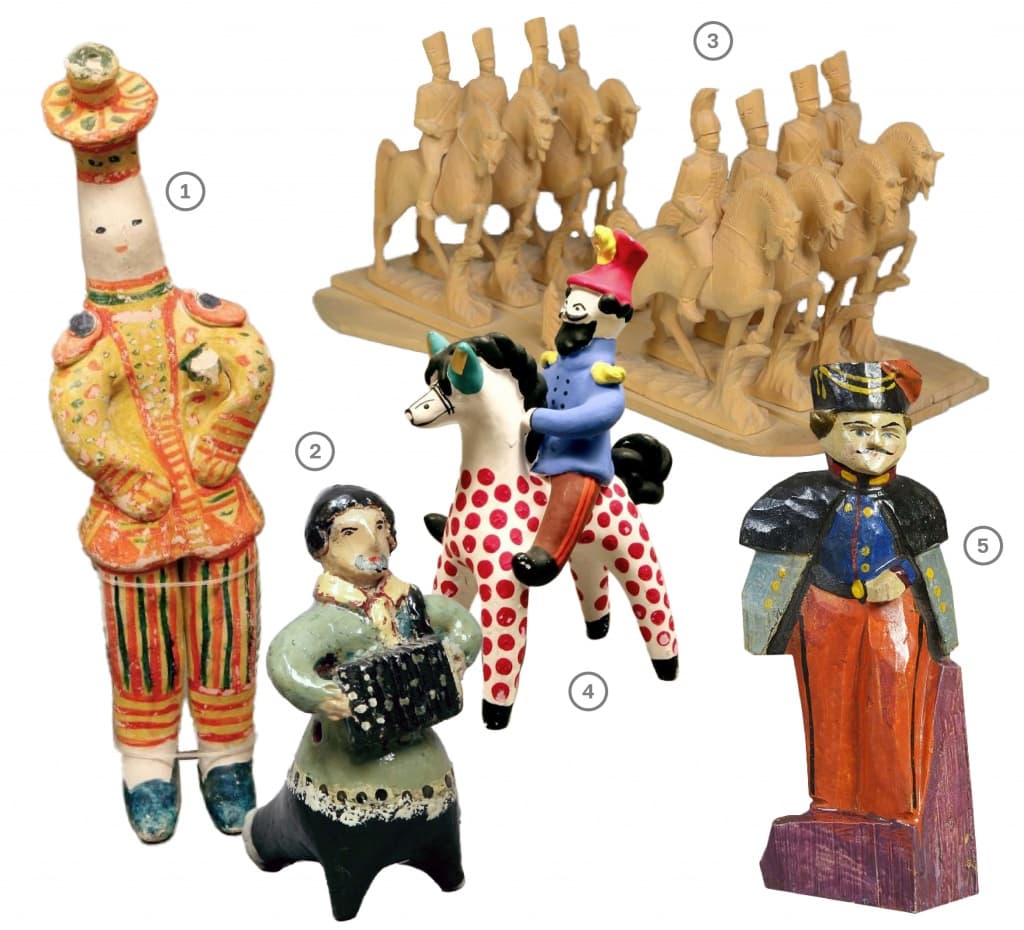 1. Filimonov toy. Whistle "Hussar". P. Ilyukhin. Until 1989. 2. Zhbannikovskaya toy. Whistle "Man with an accordion". P.S. Timofeeva. 1970s. 3. Toy divorce "Hussars". N.I. Maksimov. 1962 4. Dymkovo toy "Hussar". A.M. Trefilova. 1980 5. Toy "Hussar". Sergiev Posad. Beginning of XX century.
Female images
The origins of traditional toy-images are connected with the worldview of the people. To this day the Kargopol figurines retain the features inherent in the images of ancient farmers, for whom the earth was a living being. Female sculptures have become the personification of the mother, "mother earth" (mother-dump-earth), the goddesses of motherhood, the patroness of women, marriage and love.
In the Dymkovo toy, the favorite images were female - elegant ladies and rosy-cheeked nurses. The toy is remarkable for its amazing figurativeness, its main charm lies in the intensity of its painting, the vibrant hue of its ornament. The clothes reflected certain stages in the evolution of the women's costume of the 19th century.
The ladies of Sergiev Posad and Bogorodsky are flirtatious townspeople, dressed in exquisite hats and puffy dresses in the fashion of the Tzar Nikolay the1st era. Nannies and nurses are a type of Russian beauty: stately, chubby with arched eyebrows. Careful painting harmoniously complements the carving.
Refined young ladies from the Tula region stand out for their grace. Figurines were sculpted on the territory of the city of Belev almost from the 13th century. They are still not very well studied and we do not know nearly enough about them. The figurines are distinguished by a peculiar plasticity: a long neck, a small head with raised eyebrows as if in surprise, wide and high bell skirts. These proportions make them light and graceful.
An interesting and original Filimonov couple - "Lyubota". Dressed in the fashion of the mid-19th century, the bride and groom hold hands, a young beardless officer carefully supports the lady.
The Abashev toy, perhaps stronger than any other craft, lets us trace the ancient symbolism. Ladies do not walk, they stand as if growing from the ground. At the beginning of the 20th century, the Slavic goddesses Mokosh and Lada turn into ladies with umbrellas, nannies, wet nurses. At the same time, they continue to be considered a symbol of female purity and chastity.
Compare these images with toys from other regions of Russia, remember those that you liked the most. Now they will tell you even more - about us, about our land, our history.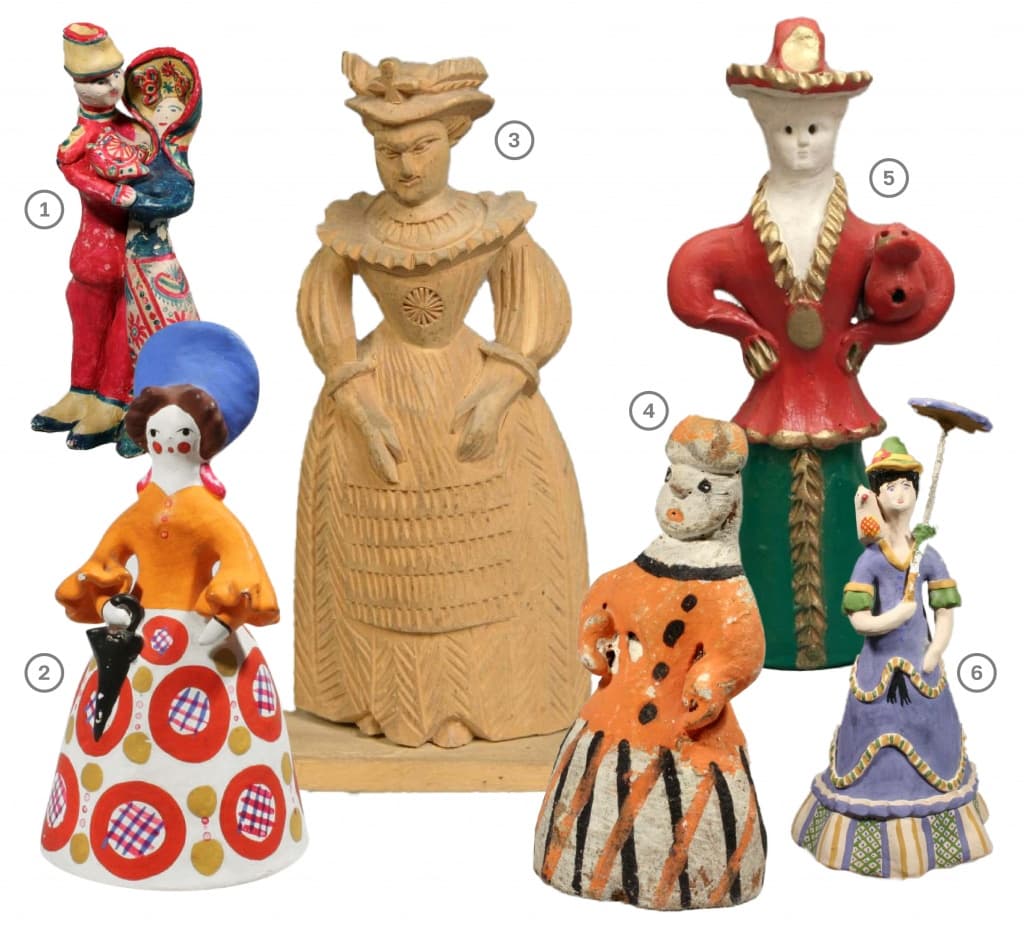 1. Filimonov toy "Lyubota" ("Bride and Groom"). A.I. Derbeneva. 1969 2. Dymkovo toy "Lady with an umbrella". Z.V. Penkina. 1968 3. Sculpture "Fashionista". I.S. Stulov (author of the original), L.I. Chushkin (master). Beginning of XX century. 4. Kargopol toy "Lady". U.I.Babkina. 1960s. 5. Abashevskaya toy. Whistle "Lady with a duck". T.N. Zotkin. 1970-1980s.